Comes a day when you must change things around...
For Sale: 1958 K31 Birch stock w/Stahli Fine adjuster sight ( Sight purchased from Guisan 10yrs ago). Tiny import mark on barrel ( Early PW Imports , WA) Sling, No soldier tag.  Serial number 252179
Price 600.00 
Shipped from COLO. USPOMO or certified funds. Shipping costs TBD. Is C&R , I believe. FFL required if no C&R lic. Face to Face in CO possible, even under our new laws.C&R okay for face to face, no background check. Email for questions,  more pics  etc  [email protected]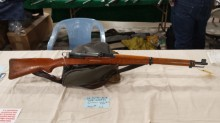 Edit : Also for Sale.    Various Swiss Shooting Medals..  And if permitted here. 1 Mosin -Nagant M91/59  . Other Finns out of collection M28/30, Tikka M 91/30 "1944". M39 No Name 1968.
Email for details,  and pics, please.
Edit 4/25/16  Finn Capture 91/30 sold.... 1958 K31 w/ Fine Adjuster sight still available.